Landmarks
Holy Trinity Church
Fine views of Holy Trinity Church are seen when approaching Cuckfield from the south.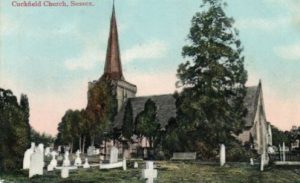 The church is over 900 years old and for many years was the only church in Cuckfield. There are lovely views from the churchyard to the South Downs in the distance and to other interesting features in the vicinity as seen on this page: Views around Holy Trinity Church
Cuckfield Park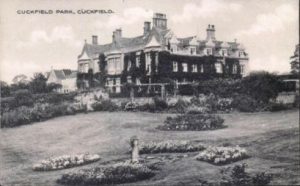 Once you have passed the cricket ground on your left you come to Cuckfield Park. Cuckfield Park was originally a deer park and the house, which was built in 1574, was the seat of Henry Bowyer and then the Sergison family. It is approached along a lime avenue. During the 1800 and 1900s the house was refurbished and refronted.
The house became a domestic science college after WW2. The house has changed hands since then and in 1951 Cuckfield Park became Grade2* listed.
The White Harte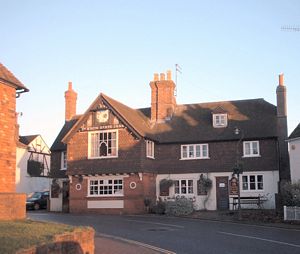 On the corner of South Street in Cuckfield is a 17th century timber framed building with an imposing three-pronged chimney stack sits above what was a coaching inn. It had 3 bays with a further bay and projecting gabled portion added in 1881. Below the pitched roof of the gable is a plaque depicting White Harte and intials 'H W' and date '1881'. 'H W' refers to Hall and Woodhouse, the associated brewery. The first floor is tile hung and the ground floor is pebble dashed. Inside, the building contains an early 17th century beam and inglenook fireplace.
The Queen's Hall
Cuckfield had many societies and organisations that met in various halls and premises. The Queen's Hall was built, by public subscription, in 1897 to commemorate Queen Victoria's Diamond Jubilee.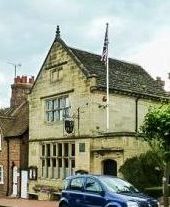 In 1914 it was equipped as a hospital and was staffed by a Cuckfield Voluntary Aid Detachment of the Red Cross. It was closed for a few months in 1915 whilst it was being used for the Post Office Rifles.
14 wooden panels list all 463 men of Cuckfield who served in the Great War. These can be found in the entrance hallway of the Hall. The names are in alphabetical order with an inscription panel in the centre. The panels were funded from the Peace Day celebrations in 1919.
The people of Cuckfield contributed to a public subscription to purchase an 8 day long case clock made by Edward Gatland for the Sergison family of Cuckfield Park. It stood in the foyer of the Hall for 50 years and then was moved upstairs to the Cuckfield Museum where it can still be seen.
It is now home to Cuckfield Museum and Cuckfield Parish Council and hosts a wide range of activities for groups and societies to meet or plays and concerts to take place.